BLACK BUTLER - His Butler Able
by
3DF Productions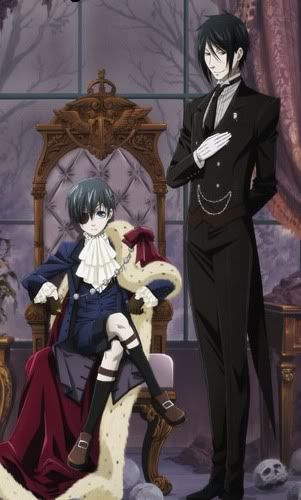 3DF is proud to announce our production of BLACK BUTLER: His Butler, Able. Based on the anime by A-1 Pictures, adapted from the manga by Yana Toboso, our non-profit presentation whisks us away to Victorian England. In the first episode, we are introduced to Ciel Phantomhive, a young boy earl, who has made an unbreakable covenant contract with a demon: in exchange for his soul to feast upon, the demon must help Ciel avenge the murder of his parents. The deal is made, and the demon takes the form of a human butler, whom Ciel christens Sebastian Michaelis. Two years later, we get a look into a typical day at home, with a cast of wacky servants and a...most unfortunate guest.
* Download the full audio at the link above! *
ATTENTION: Black Butler is an anime rated TV-14, and features scenes that may be disturbing for some listeners. Discretion is highly advised.
CAST
(In order of appearance)
Jason Marnocha
SEBASTIAN MICHAELIS, the butler
Rina Adachi
CIEL PHANTOMHIVE, the young lord
Curt Rose
FINNY, the gardener
Pam Larson
MEY-RIN, the housemaid
Dylan Spencer
BALDROY, the chef
Steven C. Phillips
Mr. DAMIANO, a most unfortunate guest
Narrated/Mixing/Directed by
Faith Kelter
Anime produced by A-1 Pictures, distributed in the states by FUNimation. Original manga written by Yana Toboso.
"
Monokuro no Kisu
"
(Introduction song) performed by SID. "Lacrimosa" (Ending song) performed by Kalafina. Sound effects from SoundDogs.com and the original anime. Music from the
Black Butler/Kuroshitsuji
soundtrack.
* - 3DF is non-profit; solely for the fans by the fans, no money made.
Be sure to check out the
Black Butler
manga at your local bookstore, as well as the anime on DVD or via the web. All episodes, including this one in its original epic form is available on distributor
FUNimation
's website!