BLACK BUTLER: My Fair Lady [Fan-Audio-drama]
by
3DF Productions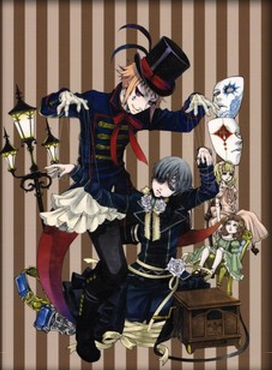 Black Butler characters belong to Yana Toboso :)
~ Download the full audio at the above link! Thanks to all who joined us for the premiere!
CAST
(In Order of Appearance)
Main Cast
LADY ELIZABETH MIDFORD - IchigoBoba
CIEL PHANTOMHIVE - Rina Adachi
SEBASTIAN MICHAELIS - Jason Marnocha
PAULA,
Lizzie's Maid
- Denise Kelter
DROCELL CAINZ - Jason Marnocha
PLUTO, the Demon Hound - Faith Kelter (Human), Sandy (Hound)
ANGELA BLANC - Krystal Donahue
GRELL SUTCLIFF - Curt Rose
At the Phantomhive Estate
FINNY - Curt Rose
MEY-RIN - Pam Larson
BALDROY - Dylan Spencer
TANAKA - Jason Marnocha
"Two years earlier," - Ciel's Memory
YOUNG CIEL/RACHEL PHANTOMHIVE - Rina Adachi
GENTLEMAN - Dylan Spencer
LEADER - JohnofOrdo3
At Mandalay Mansion
Drocell's MASTER - JohnofOrdo3
"Wood & Clay" DOLL - Caroline Rosenblum
The Taunting WALL OF FACES - Krystal Donahue, Curt Rose, Dylan Spencer, Pam Larson
The PUPPET - Krystal Donahue, JohnofOrdo3
Sound Effects from the anime episodes, SoundDogs.com, SoundBible.com, and FreeSound.org.
Music: Intro - "Monochrome Kiss," performed by SID; Closing - "Lacrimosa," performed by Kalafina; and the
Kuroshitsuji
OST
DISCLAIMER: 3DF is non-profit. We do not make any money on any of our productions. We are not affiliated with A-1 Pictures, FUNimation, or Yana Toboso, the great minds behind
Black Butler/Kuroshitsuji
. We're simply fans with love and respect for the original sources, and we
encourage
our listeners to check out the original sources and show their support.