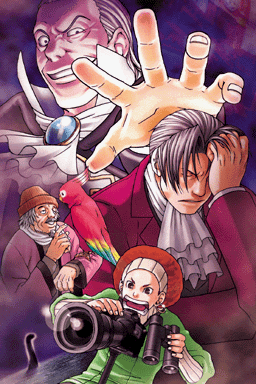 Image belongs to Capcom, too! :)
The story continues as we head into the courtroom! State vs. Miles Edgeworth has begun. But tension is high, for the prosecutor is none other than Edgeworth's ruthless mentor, Manfred von Karma. Von Karma hasn't lost a case in his 40 year career, and this will be no exception, even for his former student. This is quickly proving to be the toughest case that Phoenix Wright has ever faced...and it's only Day 1!
Based on the case of the same name from
Phoenix Wright: Ace Attorney
by Capcom,
Phoenix Wright: Turnabout Goodbyes
is a non-profit audio production, brought to you by voice-actors in it for the fun and love of the game.
CAST
(In order of appearance)
Narrator -
Dylan Spencer
Phoenix Wright
- Mark Ryan Anderson [Cettoto]
Miles Edgeworth
- James Hall
Maya Fey
- Rina "Mizura" Adachi
The Judge/Manfred von Karma
- True Blue
Detective Dick Gumshoe
- Jared J. Lee
Lotta Hart
- Faith Kelter [Faith A.K.]
SOUND EFFECTS
Court-Records.net and SoundDogs.com
MUSIC
Phoenix Wright: Ace Attorney
Soundtrack
Phoenix Wright: Cadenza
Album.
Download the full audio here!
DISCLAIMER:
PW:AA
belongs to Capcom. We make no form of money on this. At all.