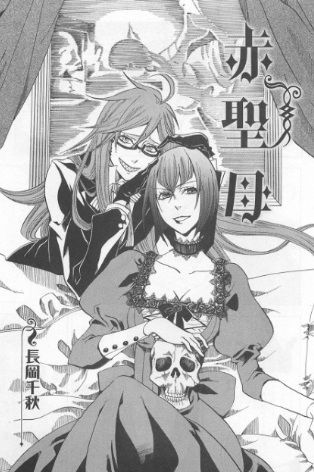 From "Red Holy Mother" by Nagaoka Chiaki
Based on characters from Yana Toboso's Kuroshitsuji
~ DOWNLOAD THE FULL AUDIO HERE! ~
Based on the fan-comic of the same name,
Red Holy Mother
is a
Ripper
arc tale. Everyone's favorite partners-in-crime, Angelina "Madam Red" Durless and Grell Sutcliff, muse over their exploits, comparing the lovely lady to the story of Mary Magdalene. A woman unchosen, the first to witness rebirth, but this time...
unrepentant
.
CAST
MADAM RED . . . Samantha Charland
GRELL SUTCLIFF . . . Curt Rose
VICTIM . . . Sarah Miller
MUSIC
"Queen of the Night Aria" ~ Mozart's
The Magic Flute
"Overture" ~ Andrew Lloyd Webber's
Jesus Christ Superstar
SOUND
Sounddogs.com
Freesound.org
DISCLAIMER: 3DF is in no way associated with Yana Toboso or Square Enix. All fun, no profit. Please support the original works by checking out the manga in your local bookstore.