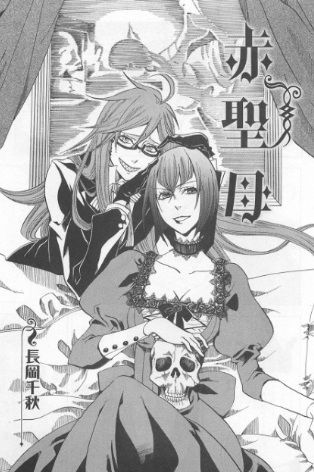 From "Red Holy Mother" by Nagaoka Chiaki
Based on characters from Yana Toboso's Kuroshitsuji
Hello 3DF fans! We are getting back in full swing, starting with a new mini-project!
Based on the fan-comic of the same name,
Red Holy Mother
is a
Ripper
arc tale. Everyone's favorite partners-in-crime, Angelina "Madam Red" Durless and Grell Sutcliff, muse over their exploits, comparing the lovely lady to the story of Mary Magdalene. A woman unchosen, the first to witness rebirth, but this time...
unrepentant
.
3DF Grell-veteran, Mr.
Curt Rose
, once again claims his red throne as the crimson Grim Reaper of passion. Madam Red, however, is played by our newest 3DF
debutante
, Ms.
Samantha Charland
. She will also be playing Francis Midford in the upcoming
BLACK BUTLER: Campania
.
Stay tuned for more info!