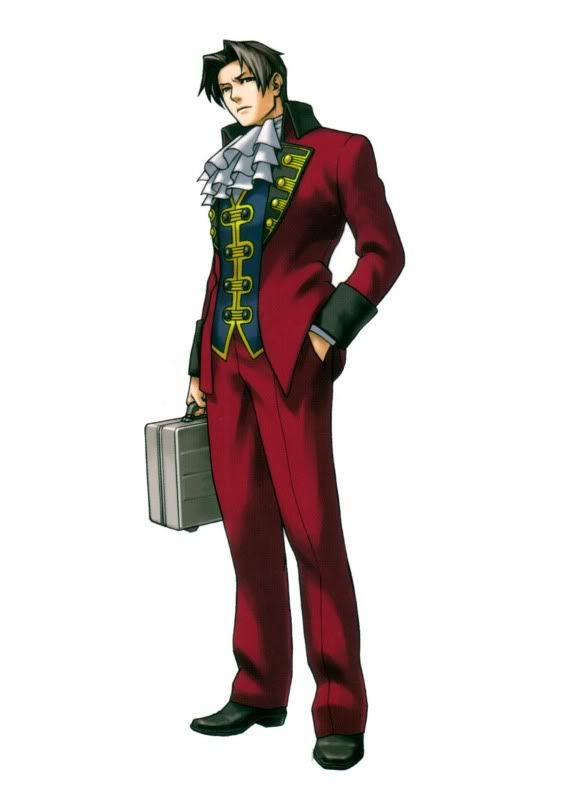 Image belongs to Capcom, too! :)
September 2011
. A young Miles Edgeworth and Franziska von Karma are still at their investigation to prove Rookie Detective Gumshoe innocent of a double homicide case. The tale is about to conclude, for this is the beginning of the end.
James Hall returns to the role of Miles Edgeworth in Act 3 of
TURNABOUT REMINISCENCE - A Miles Edgeworth Story
. Based on the case of the same name from Capcom's
Ace Attorney Investigations: Miles Edgeworth
, TR began production last year, and was 3DF's first official presentation. Please see the links in the sidebar for Acts 1
&
2, and get ready for the upcoming Act 4!
CAST
(In order of appearance)
Denise Kelter -
Narrator
James Hall -
Miles Edgeworth
Faith Kelter -
Franziska von Karma
Rina "Mizura" Adachi -
Kay Faraday
P.J. Simmers -
Det. Tyrell Badd
Pam Larson -
Calisto Yew
True Blue -
The Judge/Byrne Faraday
Jason Marnocha -
Agent Shi-Long Lang
Dave Kelter and Kenny Emp -
The Bailiffs
3DF would like to thank Jason Marnocha for his creation of the "Yatagarasu's Key" sound effect!
SOUND EFFECTS
Court-Records.net
SoundDogs.com
MUSIC
Ace Attorney Investigations: Miles Edgeworth
Soundtrack
Gyakuten Kenji 2
Orchestra Soundtrack
Download the full audio here!
DISCLAIMER: 3DF of course makes no money on these projects. They are done solely for fun. Capcom owns all, show them love and demand the North American release of
Gyakuten Kenji 2
. Thanks! :)