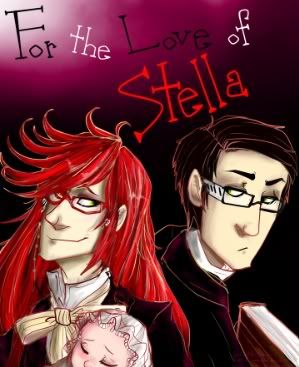 ~
Download the full audio here
~ Read the story on
deviantArt
or
Fanfiction.net
3DF PRODUCTIONS
presents
FOR THE LOVE OF STELLA:
The Audio Edition
~ Adapted from a fan-fiction by Faith Kelter, based upon characters appearing in the Black Butler/Kuroshitsuji series by Yana Toboso.
~ RATING: PG-13 for mild language and content. Discretion is advised.
The stunning artwork above is by the lovely Simply-Psycho on deviantArt. Please go
visit her page here
!
CAST
(In order of appearance)
GRELL SUTCLIFF
Curt Rose
STELLA
Samantha Ylagan & "Miles Sebastian"
RONALD KNOX
Vick Valentine
ALAN HUMPHRIES
Sukisho
ERIC SLINGBY
Jason Marnocha
QUENTIN HOWSHAM
Steven C. Phillips
WILLIAM T. SPEARS
Dylan Spencer
PIERCE
Erik Copper
KAT
Pam Larson
LUCI
Rina Adachi
Grell's CONSCIENCE
Curt Rose (S1) & Faith Kelter (S8)
MARY
Pam Larson
ALICE BROOKS
Rina Adachi
UNDERTAKER
James Hall
VICAR
Curt Rose
MUSIC
~ Kuroshitsuji & Kuro II Soundtrack
~ "Piano Bars," Sauver Mallia JRT Music Tele Music BMI SACEM
~ "Nearer my God to Thee," as heard in "Titanic"
~ "Bird," Yuya Matsushita
SOUND
~ Various from the anime
~ SoundDogs.com
~ FreeSound.org
DISCLAIMER:
3DF is a non-profit voice acting group. We are not associated with Yana Toboso, Square Enix, A-1 Pictures, or FUNimation. The only thing I claim is the story, but it would've been nothing without this great series. We make NO money off of this; this is solely a group of folks who love the series and what we do. Please, show the original sources some love and support. The manga books are available at your local bookstore; the anime is available on DVD and via streaming on must major video websites.